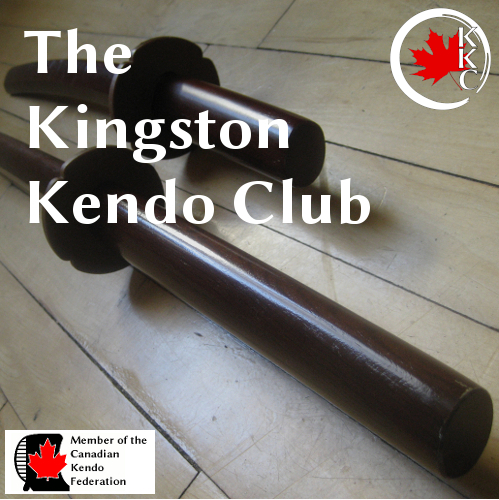 Web-hosting generously provided by
TheWebforBusiness.com
Kendo, "the way of the sword", is the art of Japanese fencing. The goal of modern Kendo is to foster self-confidence, build strong spirit and character, respect for oneself and for others, as well as increase one's physical fitness. This is all accomplished through the discipline and etiquette of training in the martial arts.
The Kingston Kendo Club is the first Canadian Kendo Federation sponsored Kendo club to open in Kingston, and is open to all members of the community.
Men and women throughout the world practice Kendo together at all levels of skill and we hope to continue this by attracting members from all different age groups and backgrounds.
Date
News
"2-Finger Scrolling" Enabled
Sep 21, 2021

Current State of KKC Classes

I have just updated the calendar for the website again. Our official classes remain cancelled due to Covid restrictions. However the schoolboard, from which we normally rent our gym space, will be reviewing their Community Use policy "sometime this fall". With luck, I am hopeful we will be able to return to indoor classes sometime soon. However, I have indicated classes will be cancelled until Dec 31, 2021 on the calendar. Should that change, I will make an announcement.

Sep 10, 2020

Current State of KKC Classes

Sorry for the lack of updates. While some sport and group activities are beginning to return to life in Kingston, we are currently bound to follow the guidelines set by the School Board as we use their gym for our dojo practices. Community use of school facilities is currently "on hold until further notice". Once their restrictions change, we will hopefully return to our regualr time slots. In the meantime, we will continue with our practices in the park (see our FaceBook group for details), and possibly find a temporary alternate indoor location. I will keep everyone advised as I learn new details.

Jul 13, 2020

Classes Update: July 2020.

All classes at the KKC will coninue to be cancelled until the local re-opening / covid phase allows for group sports to safely resume. This depends on several factors of course, but we will be strictly following the local Covid guidelines for the city of Kingston. Once the phase is at an appropriate level, we will be following the practice resumption guidelines provided by the CKF.

Mar 13, 2020

Classes Cancelled Mar 14-Apr 5; Covid-19 Precaution

All activities are being cancelled at the school gym from Mar 14 - Apr 5th as part of a Covid-19 precaution. All KKC practices will be cancelled until the school gives the ok to return to regular practice.

Jan 6, 2020

Kendo no Kata Applied to Shinai Kendo

Kendo no kata can seem disconnected from modern shinai kendo. To help bridge the gap between the two, a new article has been posted here on how one can apply the principles of the kendo no kata to shinai kendo.

Dec, 2019

Kata Manual Updated

The club kata manual has been updated to the 5th edition. This study guide gives information on both the kendo no kata and the kihon bokuto waza, as well as details on the theory and concepts encoded in the kata. Digital copies can be downloaded for free here; print versions may be ordered as well.